"2016 St. John Sandbar Escape"
An Unforgetable Trip To The Islands!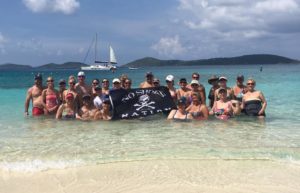 When we announced back in December of 2014 that we wanted to put together a group trip to St. John. We never dreamed it would be as amazing as it was. We couldn't wait to get together "On the Coast of Somewhere Beautiful" with other No Shoes Nation members. As the months of planning progressed, we were amazed at the fact that there were nearly 40 people who were going to join us!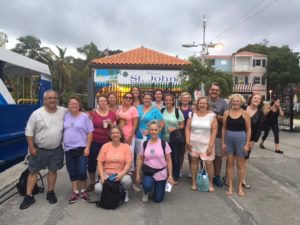 We knew it would be an opportunity for other No Shoes Nation members from Welcome to the Sandbar to come together and enjoy one of the most magical places ever. It was awesome to know we would be with people "who get us" and would appreciate all the beauty of  St. John. It was an opportunity to visit the many places we have heard Kenny sing about all these years and the places we have dreamed about through Kenny's videos and songs.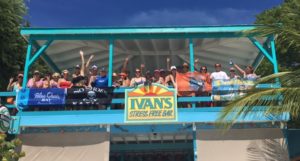 Our first night we had a meet-up at The Beach Bar. It was so much fun to finally get to meet the crew. We had fun with some Kenny song triva, games and gave away lots of prizes! We even introduced a "No Shoes Nation" themed scavenger hunt and the grand prize was an autographed beach ball! Later won by Kelle!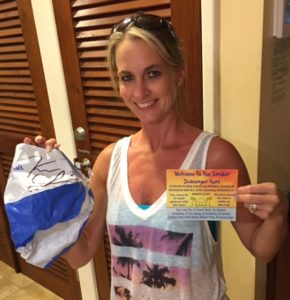 The next day was a wonderful group hike on the Lind Point Trail, which led us to breathtaking views of the island and then on to two beautiful beaches (Honeymoon & Solomon) with great snorkeling. We flew our "Pirate Flag" proudly with a group pic! After the hike, we all met up at Woody's and let's just say when we all hear "When I See This Bar" it will always bring us back to the time we participated in ski shots, enjoyed the fascinating moves of Paul and eventually closed the infamous "Woody's"  down for the night!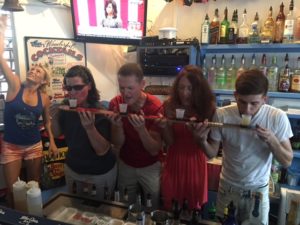 On to our next adventure…the boat trip to Jost Van Dyke was the day we had all been waiting for—it was intern Jordyn's birthday and our trip to the BVI's! Our first stop was Foxy's. We were all secretly hoping for a Foxy sighting. We were thrilled when we all got to meet him!  He told us wonderful stories and took pics with us all.
As our boats approached White Bay the excitement to see the Soggy Dollar sign was overwhelming! Of course we made our way up to the bar for their world famous Painkillers right away. We then ventured up the rocky trail to Ivan's and once again, were happy and surprised to see Ivan himself! He was also very kind and took pics with us. We then proceeded to become the DJ's and bartenders of Ivan's Bar for the afternoon. Pretty much owning the place! The No Shoes Nation had truly "arrived"!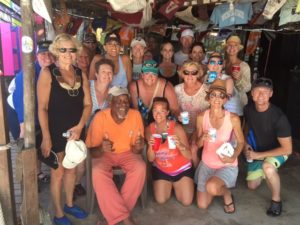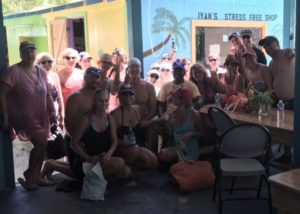 It was sad when the boat captains began to say… "It's that Time of Day" and we had to say "Adios to Jost" as we set sail back to STJ. Later that evening, a few of us were walking around town when we hit the trifecta and ran into the "Ghost From Jost". He promised to deliver Jordyn a poem before the end of our trip.
On our free day many of us explored the island and had a chance to visit all the special spots that you see in pictures: Hawksnest/Gibney Beach with the famous tire swing, Skinny Legs, Trunk Bay, Cinnamon Bay and Maho Bay, where "driving on the left side's gotta be learned."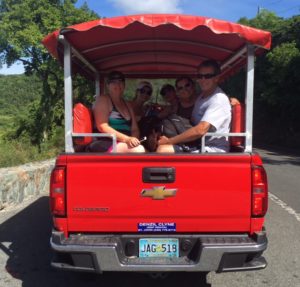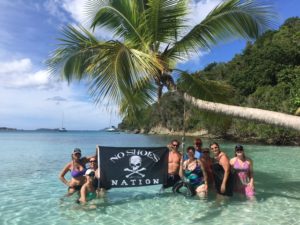 Later that evening some of us helped Noelle celebrate her 40th birthday!! Other celebrations during the trip included Kris and Paul's 25th Wedding Anniversary and Kelle and Adam's 10th Anniversary. We felt blessed they all joined us for their celebrations!
For our last full day on the island, we gathered at Maho Bay for some time to take in the beautiful beach and calm crystal clear water. We strengthened our bonds with our fellow No Shoes Nation members and swam with sea turtles. Later, we met up for the farewell party at the Barefoot Cowboy and we brought new meaning to "When the Sun Goes Down". We were certainly grooving to some KC tunes. Ghost was our special guest, arriving with his poem for Jordyn!  We honored a few special new friends and were so excited to award them with the following:
"Soul of a Sailor" to Julie Keegan—one of our awesome civilian assigned boat captains!
"Feel Like A Rock Star" rightfully went to Paul, the awesome dancer of the group! The videos we took still make us smile!
"Wild Child" award was split between our two sisters from Ontario—Grenda and Brenda!! Brenda had quite the moves too!
"Driving on the Left Side's Gotta Be Learned" award when to our fearless driver for the weekend, Greg!!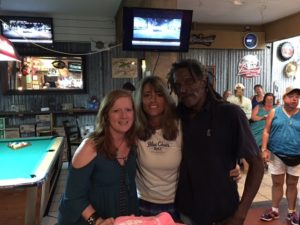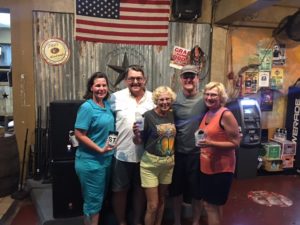 It was a trip where we could all encompass what "Be As You Are" signifies. It brought us great joy to be able to share the island with our fellow Welcome to the Sandbar peeps!
We made everlasting friendships and we thank each and every one of our escapees for joining us on our amazing Sandbar Escape! In closing, Kenny's new song "Bar at the End of the World" will also take many of us back to Woody's, Foxy's, Ivan's and the Beach Bar. What fun! Especially Woody's!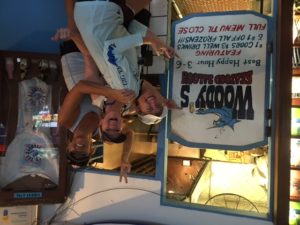 Many of the crew had thoughts of what it would be like to live "Life on a Rock". Everyone enjoyed meeting Beach Gurl and many other new island friends who have made the transition to STJ. A couple in the group, have plans to try to move there one day. Everyone agreed they  would definitely be back!
We hope to plan another trip in 2018. Most of the group has talked about getting togther to see Kenny at a show too!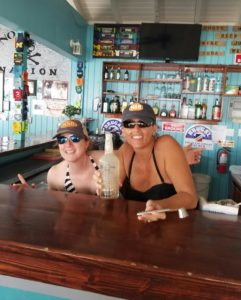 "All Our Friends are Pirates"
Connie and Michelle