Some True No Shoes Nation Fellowship!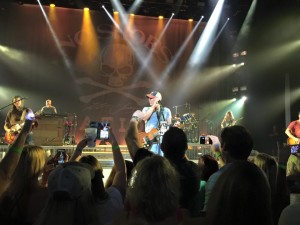 As I sit here in St. John on the patio of our cottage looking out onto Cruz Bay,  I (Connie) couldn't help but put something together with Michelle about our epic Miami adventure. It's a funny thing when you get somewhere this beautiful for a moment of stillness in your life and you can reflect on the last 48 hours! From a private Kenny Chesney show to hopping on a plane right after for a getaway with your better half to this amazing island. So here's our recap of the show in Miami.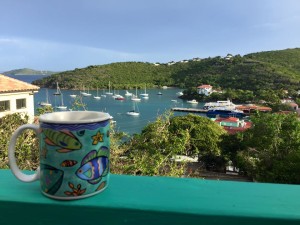 Many of you said we were blessed and how awesome our lives are after we posted about the Miami show. Well, yes we are blessed and we are grateful for it! We have so many things to be grateful for, mainly our husbands, kids and families. But our gratefulness extends over into being a part of the No Shoes Nation with each and every one of you. The night of the private show was so special for so many of us that entered our video's to try to win. Knowing we were picked was so exciting. Yes… we did enter videos just like everyone else. We have them posted below- no judging-LOL. Two very different spins on why we felt we should go to a private Kenny Chesney show! And to our surprise they were BOTH picked! That made it possible to invite some special Sandbar Girls with us from Texas and Minnesota- we wanted to spread the love! Then we found out other Sandbar peeps had won and we knew it was real! We had to keep a secret for over 10 days from our peeps! Do you know how hard that was for us?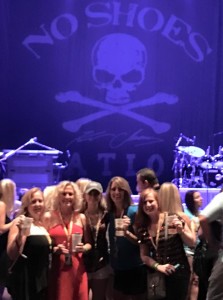 Being blessed for us means so many things. But when you find out you are part of a grander plan called the No Shoes Nation and meet people that "Get You," that is certainly special. Knowing Kenny Chesney's music touches so many in the same way that it touches us, makes us so happy and validated. Watching two fans you know in one night get their t-shirt and flag signed right in front of you and then turning around to hug you because of their overwelming joy….or one of your close friends getting to the front of the stage and Kenny Chesney holding her hand for the 1st time…that makes us feel blessed! These people are experiencing things that we've experienced and knowing the joy it gave us, just amplified our joy for them. Looking over and singing with our girls from Colorado we just met, and knowing they will now be our friends for life is another blessing we felt. All because of Welcome To The Sandbar.  It's also a true blessing when you can lean into your BFF and Kenny Chesney himself looks the two of you in the eye with the most amazing smile of approval, as he sings a chorus of Tractor, although you know the most amazing night is coming to an end! Getting to spend the day with several of your closest friends you met through the NSN was so special to us…they came from Washington, Tampa, Texas and Minnesota. Just for Kenny! Those are just a few of the amazing moments that hapened to us all within one breathtaking heart-pounding evening!
What an amazing name for the 2016 tour "Spread The Love." Not only does Kenny spread love though his music, the No Shoes Nation spreads it through fellowship! Thanks for being on this crazy Kenny journey with us and it makes us so happy to meet so many of you "out on the road" and we look forward to meeting all of you on the coast of somewhere beautiful in 2016!
Love You Guys ~ Connie & Michelle