Connie & Michelle
About Us & Why We Do What We Do…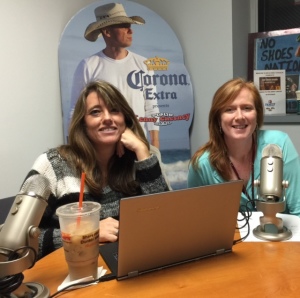 We are proud members of the No Shoes Nation… Connie and Michelle, two friends who met through work but quickly realized we had several things in common. We love our beautiful families, enjoy the same types of music, traveling, the beach and attending great concerts. Most of all we have the same favorite musical artist, Kenny Chesney.
The No Shoes Nation
It's amazing how passionate the No Shoes Nation fan-base is. We are so proud to be a part of it. Over many years of loving Kenny's music and with over 80 combined Kenny Shows under our belt's, we have made so many wonderful friends, great memories, and have lots of great stories to share. So, we decided to create a place where we could all go to share those experiences. We call it "The Sandbar". Just like Kenny's real sandbar at the concerts, we can all hang out and enjoy each others stories and the love of Kenny Chesney's music! What makes us the most excited is being able to hear YOUR stories about why you love Kenny's music, what drives you to attend his shows, and how you incorporate all of it into your own lives. Along with the many fans we will meet on this incredible journey, WE… Welcome You To Our Sandbar!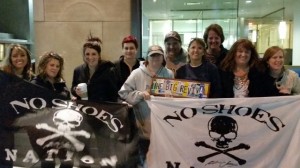 Connection to the Islands
St. John captured our hearts many years ago and we travel there very often. You will notice there is a taste of that island in a lot of what we do. Often we will share our trips with you all. We went on a special trip in October of 2014 and brought back some great ideas and recorded our 1st of many podcasts for the website. We are always looking for fans who live the No Shoes Nation lifestyle, like the rest of us. If you hang with us you'll meet some pretty cool people who literally "up and ran" to start a new life and followed their dreams. Those are the stories that inspire us all. This is a special place where the fans live a little, love a lot! We want this to be a place were we welcome this crazy "tribe" of fans to escape and enjoy life with us!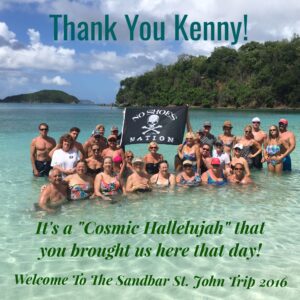 At The Shows
Kenny's real sandbar is a special place to many fans in The No Shoes Nation and while not everyone has been able to experience the sandbar in real life, our hope is that this website that is filled with fun videos and podcasts, will bring us all together at the end of that "T". There is no better feeling while looking up into a mass of people in a stadium and feeling like you know everyone there. That amazing experience when Kenny is right in front of us and we are singing back the music we love so much. We've met the coolest people while feeling like "VIPs" and standing for 8 hours in the sandbar and we've been "Way Up High In The Cheapest Seats" as well. That is what is so special about this group of insanely awesome people, who were crowned the No Shoes Nation in 2012 by the man himself in Foxboro. We had the chance to travel to Foxboro for the last leg of The No Shoes Nation Tour in 2013. It was very special to be in Gillette Stadium and feel the energy from that audience! With Kenny Chesney at the helm of our night singing so many wonderful songs. That is just one example of a show we have traveled to that became an experience we will never forget!
Spreading The Love
So… Let's all share our favorite memories over the years of going to concerts, tailgating and traveling the country to catch a show. Let's talk about all the pirates we've met along the way. You will hear about our very personal hugs from Kenny in 2013, all the way to the day we were honored enough to interview him before the opening night of The No Shoes Nation tour in Tampa. At the 2016 Phoenix show we finally recieved the coveted meet in greet. Although it was quick we spent a little time chatting with the man himself. He thanked us for all we do and was happy to give us a few extra hugs. By the looks for our picture you can tell we shared that special artist-fan moment that every fan dreams of having! It was incredible! There is so much more to come as our adventures continue with each tour!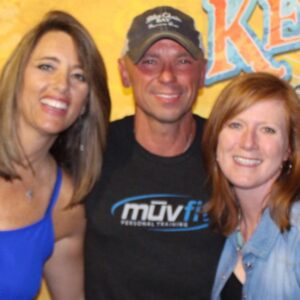 Hang on for this wild ride while we live life to the fullest! Jump on board and get your feet wet! We promise a good time!
Michelle and Connie