What the No Shoes Nation Means To Us…
We are guessing that in the past 35 years, We have attended over 300 concerts all the way from from Kenny Chesney to Bon Jovi. Some of our 1st concert experiences were: Connie with Air Supply at 12 yrs. and Michelle with Dan Fogelberg at 13 yrs. Within the past few years, we have started to be labeled with all kinds of names, although we have been enjoying the live concert experience since we were young. It is so funny when people call us… those concert freaks, those girls that worship Kenny Chesney, and the most common word, groupies. Aside from all the weird labels, those same people ask… Isn't every show the same as the one before? REALLY? That is like asking a golfer if every golf game he plays is the same? Every show we attend whether it is a Kenny show or some other amazing artist, is simply how we like to spend our free time, with the people we love and making new memories with every song. So, the comments about all the shows and the traveling we do just makes us think of one word… Jealousy! Who wouldn't want to be a part of this magic carpet ride and spend their days and nights with some amazing people called the No Shoes Nation? It forced us to develop Welcome To The Sandbar so we have a place where everyone gets us and we can share our love of Kenny and his music. A place where we have met so many amazing people. We really do have friends from every part of the United States. Everyone of them are good people who love to live life!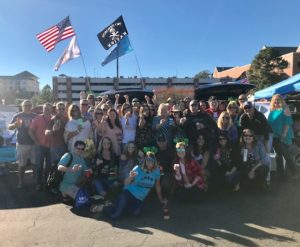 We are certainly not ashamed of who we are and what we enjoy. Music in general is very healing and we get so much from it! We love music, making friends and going to concerts more than anything… Kenny Chesney and his music just happens to be our favorite! It isn't just listening to a tune for a few minutes , it is really listening to the words to a song and making a life relation to it. Music is spiritual and mood lifting. Music for us has become, traveling and making new friends. Music gets us through the tough times. The best thing about Kenny's music is that there is a song for almost everything. No matter your mood or what's going on in your life. For us, going to a concert lifts us up and makes us feel good inside. Music is also unifying. It's a universal language, especially in the No Shoes Nation. We can relate to so many people, just because we all like Kenny's music. There seems to be a special connection when it comes to his music. Concerts are the best way to enjoy music and you probably wouldn't be able to relate to us unless you've seen a really good artist perform live. The absolute best way to get someone on board with us is to just take them to a show. It just takes one Kenny show for someone to "get it." We have seen this happen several times. Concerts have blessed us with so many incredible friends all across the country, given us opportunities to travel to places we would never go and experience so much love and laughter!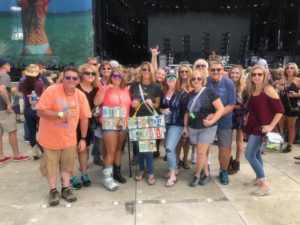 A Kenny Chesney concert is not just a 2 hour experience, it starts when you purchase your ticket. From that moment on, that's all you look forward to, counting down the days, looking for the perfect outfit, all the way to planning your tailgate or the pre-party. When the day finally gets here you know you are going to have the time of your life and make the most amazing memories with some very special people! When you finally arrive at the venue all your worries just go away. You're genuinely happy. You leave your worries behind! Once the opening act hits the stage you are going to dance, sing, scream and maybe even cry the night away. It's because you are with The No Shoes Nation and no one is going to judge you because they are doing the exact same thing right along with you! Almost everyone that surrounds you believes in the music like you do. We all love those artists on stage and we are proud of them and their music. Kenny Chesney's music especially, because it has impacted all of our lives in some special way!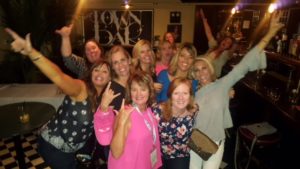 There are no limits to the special bond the No Shoes Nation has with Kenny Chesney and his music. Whether you have been a fan since the beginning in the 1990's or just developed your love for him in the past few years. The songs mean something special to us all. It is a special moment when Kenny stops singing and he let's a stadium full of fans continue the song where he left off. That song may not even have been a number one hit on the radio, but Kenny knows it was a #1 hit for his fans. It's an indescribable, yet incredible feeling and we can't began to image what it feels like for Kenny. That feeling of success and accomplishment he must feel has to be like no other feeling in the world. For Kenny to know his message has reached people and changed their lives, that must be special. Kenny leads the No Shoes Nation in song with so much humility and love!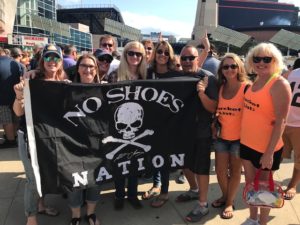 We are proud to be a part of the No Shoes Nation and we are blessed to be a part of this wonderful ride that Kenny takes us on every year! So, to quote Kenny… "Let's Take Another Crazy Trip Around The Sun"! Hope to see many of you out on the road in 2018! Love You All, Connie & Michelle