"Flip Back Friday" Album Rewind Vol. 4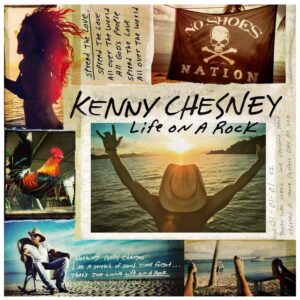 Life on a Rock
What does the Sandbar say…
Connie… My favorite song on this album is "It's That Time Of Day". It reminds me of my trips to the Virgin Islands and when we are wrapping up our day on Jost and headed back to St. John. Every time I listen to it I see that cotton candy sky fade as we enter Cruz Bay and think about all the fun we had out on the water making memories!
Michelle… "When I See This Bar" has to be my favorite from this album. It just makes me feel good. It brings me back to Connie and I and our 1st trip to New York City.  We heard Kenny sing it for the 1st time ever live on the Katie Couric show. We knew every word and the album had just been released the day before!
Released April 30, 2013
Recorded December 2012 – January 2013
Label Blue Chair/Columbia Nashville
Producer Buddy Cannon
Kenny Chesney
Singles from Life on a Rock
"Pirate Flag"
Released: February 4, 2013
"When I See This Bar"
Released: June 10, 2013
Life on a Rock is the 15th studio album by American country music artist Kenny Chesney, released on April 30, 2013 via Blue Chair/Columbia Records. Chesney co-wrote eight of the album's ten tracks and co-produced the album with Buddy Cannon. It was recorded in Los Angeles, Hawaii, Jamaica, Key West, London and Nashville. 
Country Weekly's Jon Freeman thought that "Lindy" and "Happy on the Hey Now" were "poignant sketches of people he's encountered over the years", and that some of the songs showed "the motivations behind his relentless career building". He criticized "Marley" and "It's That Time of Day" for "meander[ing] aimlessly", and thought that "Pirate Flag" did not fit thematically with the album.
Kenny Chesney stated that the last song "Happy on the Hey Now (A Song for Kristi)" was written in memoriam about Kristi Lynn Hansen. She was a long-time resident and local of the island of St. John in the U.S. Virgin Islands, where Chesney had a residence, and frequently lived on the island and in the city of Cruz Bay. Hansen was an employee of Woody's and La Tapa restaurants.Hey Now was the name of a boat that Hansen and Chesney used to have a jovial time during their stays on the island.
Track Listing:
1. "Pirate Flag" Ross Copperman, David Lee Murphy 3:45
2. "When I See This Bar" Kenny Chesney, Keith Gattis 6:02
3. "Spread the Love" (with The Wailers and Elán) Chesney, Elán, Aston "Familyman" Barrett, Carlton Barrett, Tyrone Downie, Brett James 4:16
4. "Lindy" Chesney 3:49
5. "Coconut Tree" (with Willie Nelson) Casey Beathard, Michael White, Monty Criswell 3:24
6. "It's That Time of Day" Chesney 4:53
7. "Life on a Rock" Chesney 2:53
8. "Marley" Chesney, Tom Douglas 4:48
9. "Must Be Something I Missed" Chesney, Mac McAnally 3:10
10. "Happy on the Hey Now (A Song for Kristi)" Chesney