For Immediate Release From Kenny Camp
April 24, 2016
Kenny Chesney Starts Tour with 50,430 War Eagles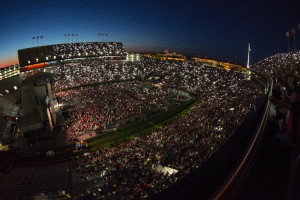 Photo Credit:  Allister Ann
 Spread The Love is First Concert at Auburn's Jordan-Hare Stadium
Auburn, Ala.:  They hoisted the flag of the No Shoes Nation Monday. Friday afternoon, there was tell of a few songs played at the Lambda Chi house. By 8:50 Saturday night, the War Eagles were beyond ready for Kenny Chesney, who kicked off his 2016
Spread The Love Tour
as the first
ever
concert in the 75-year history of Jordan-Hare Stadium, with two full hours.With guitars blazing, a bumper crop of hits and guest appearances from tour mates Miranda Lambert ("You and Tequila"), Sam Hunt ("Come Over") and Old Dominion ("Save It For A Rainy Day"), the 8-time Entertainer of the Year ran, laughed, and sang songs from a career that includes 28 No. 1s. The two dozen songs ignited the crowd, who sang along throughout, often taking an a cappella chorus on songs like "Anything But Mine" and "American Kids."
"Sometimes you can feel the energy long before you hit the stage," Chesney explained after the show. "It's gathering, and you can sense it. This was one of those shows, one of those times. It was so intense, it was so there, this is the reason we do this: to play music andfeel all that energy coming at us."
The show – billed as the Music & Miracles Festival – was created to honor the last wish of Kevin Brown, who succumbed to cancer. Telling the crowd, "Before I came onstage, I got to meet so many great people… This show is because of Kevin: his dream specifically was to see us play in this stadium. And so, War Eagle…," the audience began what became a two-minute chant of "War! War! War! Eagle!"
With only a piano, Chesney delivered a particularly heartfelt "My Home's in Alabama" to honor the sentiment behind the event. But for much of the night, it was high impact and higher energy. Even a five-song lapse in his voice – remedied by Throat Coat Tea– didn't slow down the man deemed "The King of the Road" by The Wall Street Journal. As the audience pumped their fists to "Noise," his propulsive new single, the notion of being together and celebrating the night seemed to be the only thing on everyone's mind.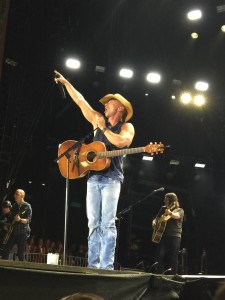 Photo Credit: Jessica Gainey
Miranda Lambert, in a black leather mini skirt, offered a sultry take on Hank Williams' "Move it on Over." Then the 7-time CMA Female Vocalist scalded the crowd with a potent "Gunpowder and Lead." American Music Awards Favorite New Country Artist Sam Hunt took momentum and rode the energy of his set for a performance that included diving off the stage and working his way through the crowd to the other end zone. ACM Best New Group Old Dominion opened the day with a set that included their two-week No. 1 "Break Up With Him."
"Some years you just know from night one, it's going to be special. When we named it Spread The Love, we got it right. To be able to hear the kind of music and the crowd I did all afternoon, it really gets me fired up to get on that stage and make some music. We started back in February with everything pointed at tonight. From the first second we heard that crowd, all the work was beyond worth it! Miranda, Sam, Old Dominion and every single person totally rocked our world. This is what memories are made of."
As "Noise" blazes into the Top 10, the 2016 Spread the Love Tourstarts on a high note. With dates at Albuquerque, New Mexico's Isleta Amphitheater on May 5 and Phoenix, Arizona's Chase Field on May 7, summer is now officially underway.