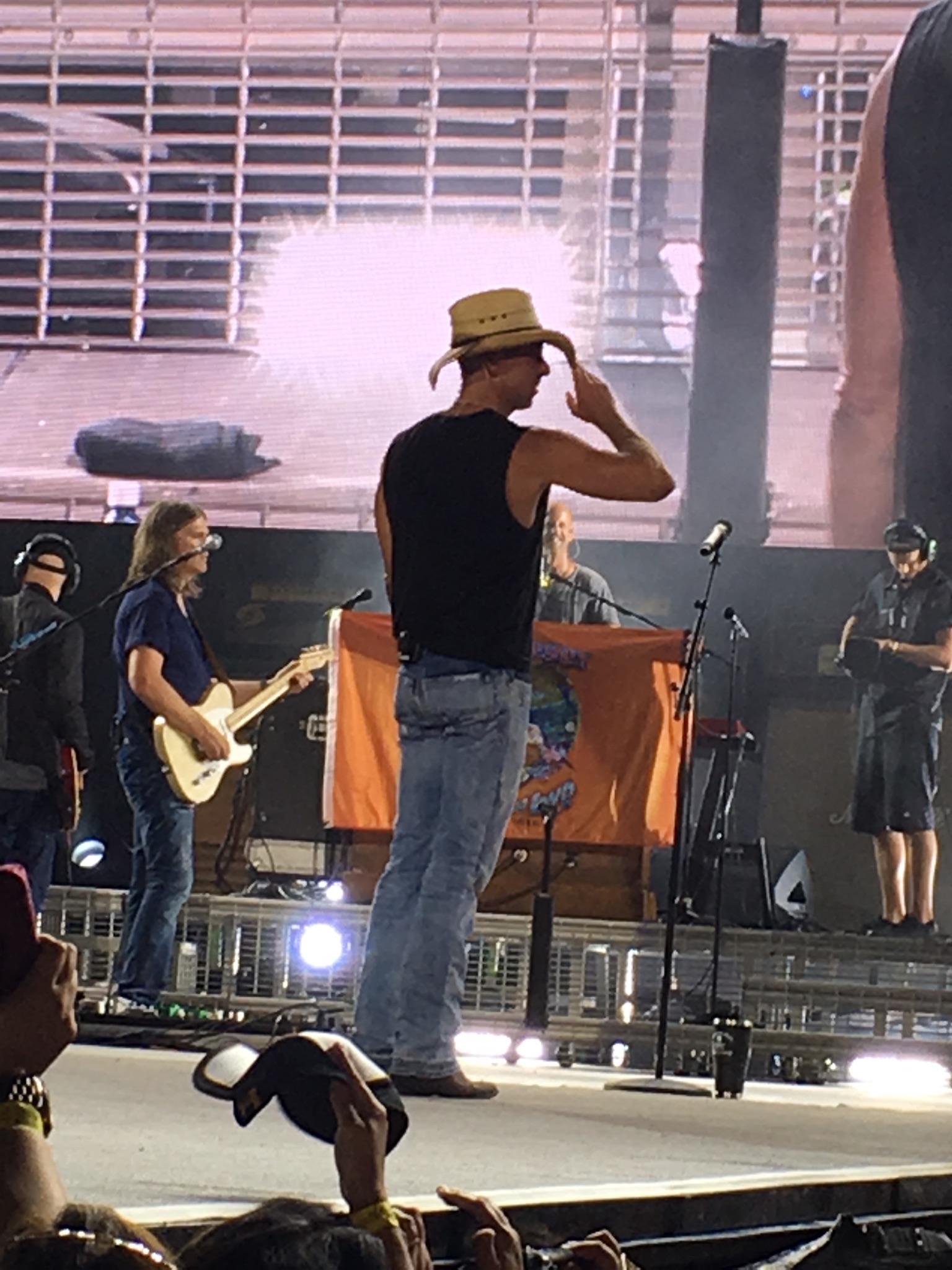 For Immediate Release
Returning Home, Chesney Rocks at Bristol Motor Speedway
Super Bowl Winner + UT Vol Peyton Manning Surprises the Crowd
BRISTOL, Tenn. (Friday, Sept. 9, 2016)– When Kenny Chesney took the stage on the eve of the University of Tennessee/Virginia Tech football game, he was in many ways returning to the roots of his raising. As he said midway through the high-energy set, he came into Bristol Motor Speedway with one goal in mind: "to celebrate music and to celebrate football."
From the first moment of his set until bringing longtime friend and former University of Tennessee star quarterback Peyton Manning out during the celebration of high school football, "The Boys of Fall," it was all hits and the kind of connection that prompted The Dallas Morning News to write the 8-time Entertainer of the Year is "two parts Mick Jagger, one part Bruce Springsteen and one part Billy Graham."
"The people from that part of the country are all heart – and all soul," Chesney said after the show. "When they show up, they bring everything they've got. I was raised that way, and I understand how much they care about football – and music."
For Chesney, who attended East Tennessee State University, Bristol was the place he started on his own dream of chasing music. He talked of playing gigs at the El Chico Restaurant to make money to cut an independent album across the state line in Bristow, Virginia and learning the first lessons in how to connect with people through song.
"Music and sports bring people together like nothing else," Chesney enthused. "What a thrill it was to be part of this historic weekend, combining both – and to come play music where it all started for me."
During a particularly poignant "Boys of Fall," Chesney waved the recently retired, current Super Bowl champion out of the wings, deepening the significance of the moment. The good friends stood before the roaring crowd, taking it in and signing an acoustic guitar to give to one young fan to remember the night that would be hard for anyone in the area to forget.
"When you grow up in East Tennessee, football, family, church and friends are everything," explains the man who has played over 145 stadiums across his past 10 tours. "Those are the things that bond you together, that lift you up, that bring you out. For everyone out there tonight, 'Boys of Fall' was truly the song of the weekend.
"With the man The Los Angeles Times called "The People's Superstar" just wrapping his Spread the Love Tour in Boston with 121,000+ fans over two shows, bringing it all back home was a fitting finish to a very special summer. What began as a crazy dream became a very real moment playing his songs to kick-off what is being billed as "the biggest football game ever" with over 150,000 tickets being sold