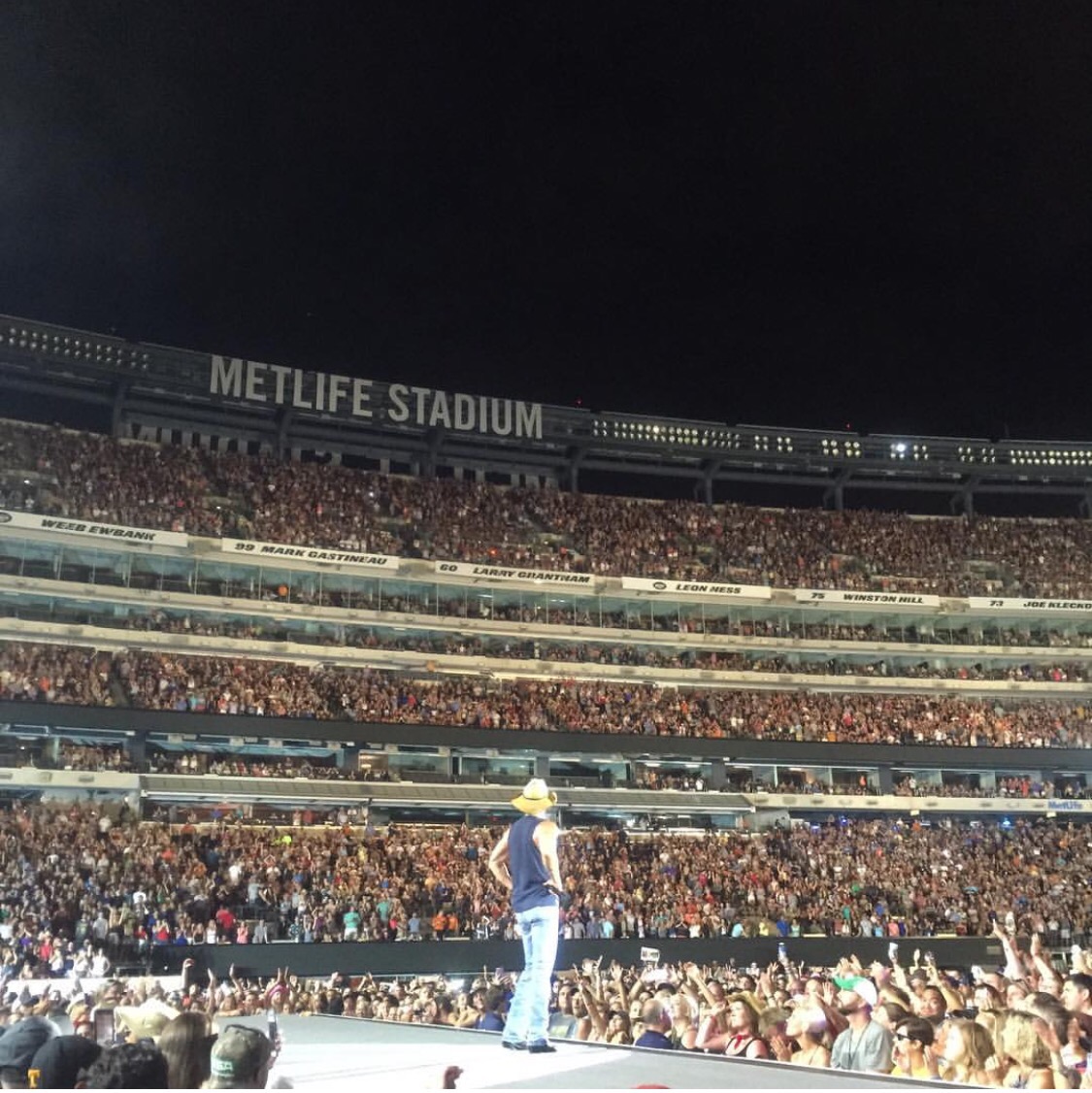 Photo Credit: Dan The Traveling Builder
Immediate Release From Kenny Camp:
56,292 for Show That Puts Him in Top 10 N.J. Stadium Draws Ever!
Holmdel, N.J. (Sunday, Aug. 21, 2016) – "Oh, there you are," said Kenny Chesney, standing onstage at MetLife Stadium, pointing into the far part of the crowd. "There you are." Pausing for a moment, he took the 56,292 fans in, before announcing, "This is the most beautiful sight! Music and songs are the most powerful things we have in our lives… Just look around."
With a few more words, he invited the full-capacity crowd to sing along – something they'd been doing all night anyway – then launched into 2004's "I Go Back." The crowd's response was deafening as they sang along to the song-invoking smash about the way music watermarks people's lives.
For Chesney, approaching the end of 2016's Spread the Love Tour – complete with 14 major stadiums – it marks his love affair with the No Shoes Nation. With two hours of hits – from the truly vintage "Don't Happen Twice" and "She Thinks My Tractor's Sexy" to the six-week No. 1s "When The Sun Goes Down" and "Summertime" to the brand new "Noise" – it was a truly loud love fest in Jersey that saw the crowd sing along to every song, almost louder than the headliner.
"That audience felt so honest, raw – and almost right there with us onstage," Chesney marveled. "It was like walking into a buzz saw – in a really good way – they just cut right through us."
New York metro's passion for the songwriter/superstar rivals Boston's in the way they turn out, sing out and throw their hands into the air in a way that truly drives the band. After last night's show – his fifth at MetLife Stadium – took his accumulated attendance to 279,874 making him the only country act in the Top 10 Performers in the MetLife/Giants stadium's history, starting five decades ago. That ranking places him in the company of Springsteen, the Grateful Dead, Bon Jovi, U2, the Rolling Stones, Dave Matthews Band, Billy Joel and Elton John.
"You don't think about stuff like that when you're up there," Chesney said. "You're drinking it in, letting it wash over you. They were so loud, so there. Like I told them during the show – 'It's why this place is so special… why we keep coming back… year after year. Because I'll be sitting at Thanksgiving dinner, and I'll still hear the love in this stadium.' That's true…"
Chanting "KennyKenny! KennyKenny!" after the 8-time Entertainer of the Year left the stage, the crowd was rewarded with a grinding drum solo from Sean Paddock that saw guitarists Kenny Greenberg and Clayton Mitchell twist the melody line of "Don't Happen Twice" around. Walking on stage to another seismic eruption of cheers, Chesney lifted his tumbler to the crowd before delivering an embrace-the-moment rendition of his 2001 chart-topper.
With "Setting The World On Fire," his duet with P!NK, blazing up the Country Radio and Sales charts, Chesney's fans' fervor remains unabated. Sitting at No. 12 at Billboard, the song that highlights the immediacy of the moment when like turns to love was also Chesney's biggest first week of downloads ever – and it's still only three weeks old. As Chesney heads into his tour's final weekend at Gillette Stadium in Foxborough, Mass. where the No Shoes Nation was named, it has certainly been "one of those summers" for the man The Wall Street Journal deemed "the King of the Road."