"Kenny Felt Numb"
Interview with Lon Helton
 September 14, 2014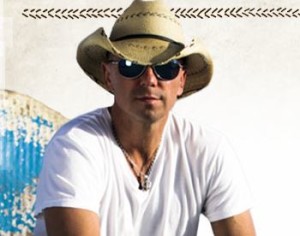 One year ago, as Kenny Chesney wrapped up his No Shoes Nation Tour, he announced he wouldn't tour in 2014.  He'd take a year off, and concentrate on recording a new album.  Now finished, that album is called "The New Revival," and will be released on September 23rd.  In a lot of ways, the year off was a revival for Chesney himself, who had grown tired of the endless touring and recording.  He spoke about it with Country Countdown USA's Lon Helton:
(Lon) You took a year off, so how does this album represent where you are now?  (Kenny) The title alone of The Big Revival represents the tone of this record, and where I am in my life, and a thread that runs through a lot of the songs in this record.  It's about reclaiming one's life and hearing that inner voice in yourself, that maybe allows you to pick yourself up off the bottom, and reach for something more and maybe be better than you've been.  I know I sound like a preacher, but that's how I feel about this song and why it fit this record so well.  Because I do feel like I'm at that place in my life creatively as an artist and a person where I do feel a sense of revival."
How did taking the year off affect your personal life? "My personal life is constantly evolving, but taking a year off helped me in a lot of ways.  It's tough, when you've been creating as much as we do, you get to a point in your life where it didn't necessarily feel great.  One of the years I took a year off is personally I felt numb.  I wasn't depressed, but there was no highs or lows.  It was interesting because when you're busy, you start to feel numb, and that's how I felt.  It wasn't that I felt bad.  But taking this time off allowed me to feel things that I've been needing to feel for a while.  It helped my relationship with everybody in my life, and that was needed to take a deep breath and pause and feel things I hadn't felt for a while because I was so busy.  You can get to a point where you're numb to everything, and I don't want to be that guy any more.
So then tell me about looking ahead to next year's tour? "I was already hungry because of the new music.  It's inspired me.  I haven't seen my road family for a year, and seeing them at the Flora-Bama Jama felt great, and got everybody excited.  Now I'm going to put this album out, and then in January we'll go into rehearsal, and we're going to start a sermon of The Big Revival.  I feel very rested.  I feel great as a person.  I'm in a really great spot.  This year off has really helped that.  I took a deep breath, say thank you to God for everything, and have time to reflect.  That's why this year has been really great.  But now, with the new record, I miss the connection.  So when we start rehearsals in January, it'll be intense, and sometime next spring, we're gonna go out there and do it.