"Kenny & Jason Merge Tours"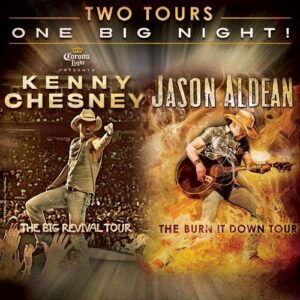 Kenny Chesney and Jason Aldean Announce Joint Tour
By Ray Waddell  Billboard | October 27, 2014 10:10 AM EDT
Kenny Chesney will merge tours with Jason Aldean for a run of megashows in 2015, as Chesney's Big Revival tour melds with Aldean's Burn It Down for 10 stadium dates.
The first shows to go on sale are New England's Gillette Stadium on Aug. 28, 2015m and San Francisco's Levi's Stadium on May 2, 2015. More on-sale information and special guests will be revealed over the coming weeks.
Chesney says he and Aldean planned to tour in 2010, before Aldean's career exploded. "Jason had already decided he wanted to do it, and then I decided I wasn't gonna tour at all [in 2010], so that's been kinda laying there for a while" Chesney tells Billboard with a laugh. "Since then, Jason has really done well, and built his own audience, in his own way, and is out there doing these baseball stadiums himself. His career is in a much different place than it was in 2010 when he was gonna go out, so now it seems better for both of us."
Sharing the stage with another superstar is nothing new for Chesney, who co-headlined with Tim McGraw in 2012 on the Brothers Of The Sun tour, which grossed nearly $100 million, according to Billboard Boxscore. "I quit having ego years ago, because that doesn't get you anywhere," Chesney says. "You've got to have a little bit to be able to get up there and do what you do, but there was none of this 'I don't know if I want this or not.' You look at somebody's life and career, how they've handled themselves, how successful they are, and Jason's doing a great job. He really is becoming this huge, successful act, in all genres, and I really respect that. I was real excited he wants to do it, and how much fun it's gonna be, and just the experience we're going to be able to give fans. We're going to make it something people don't want to miss."
Chesney will open the Big Revival tour, produced by TMG-AEG Live, on March 26 (his birthday) and 27 at Nashville's Bridgestone Arena, and will play about 55 dates, including as many as 20 stadiums.
Regarding the stadium shows, "that package will be stacked, there's gonna be a lot of music," Chesney says. "That's by design. Those guys are doing great, they've got a lot of great fun songs, and every one of them have their careers in a place where people really care. That means a lot. I'm excited about having Jason out there. It's gonna be a killer night of music."
Chesney is one of the most successful touring artists in country music history, having drawn more than 1 million fans for eight consecutive tours. The artist stepped back from touring in 2014 to complete work on his latest album, The Big Revival, released Sept. 23. The only two shows Chesney played in 2014 were a massive free show on the beach outside the FloraBama bar in Gulf Shores Ala., on Aug. 16, and an intimate gig at the Georgia Theatre in Athens on Aug. 29.
"The FloraBama was awesome, everything we hoped it would be and more — 40,000 free-spirited, music-loving souls down on the beach, their feet in the sand, just lovin' life and listening to music," Chesney recalls. "It was just a beautiful thing to see, all those boats on the water and people on the sand, listening to music all day long, waiting for us to come on stage. That was a great way to introduce some of this new music, and The Big Revival."
The Georgia Theatre gig was "a totally different thing, about 1,000 people, which is always a lot of fun," Chesney continues. "Those were the only two shows we did all year, two very different, contrasting shows. I felt hungry to go out there and feel the energy, try out [debut single] 'American Kids,' [current single] 'Until It's Gone,' and some of the songs that are on this record. It's one thing for me and the band to play it to each other, but I wanted to get out there and play it for somebody else, so that's the main reason we did it."