"Our Night With Sam Hunt & Friends"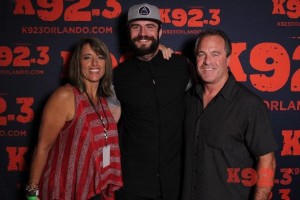 We had an amazing night at our local Orlando All Star Jam. We met Frankie Ballard, Sam Hunt, Michael Ray, RaeLynn, Eric Paslay, Parmalee and Old Dominion.What a whirlwind of country music! Our favorite of the night…Michael Ray. He is one to watch.
We were able to chat with the Runaway Country promoters and they answered a few questions that we had. Biggest question was… Why is Kenny releasing the tour dates randomly? Here was their answer…When an artist signs a contract with a festival or venue it is usually in the contract that they can only release the dates for venues that are 3 1/2 hours or more away around them. This way it guarantees ticket sales if we (fans) are assuming the artist will not be returning into the area where the date was released.  They can always add a date close and it be on the tour list, but it can't be announced if it is within 3 1/2 hours of the released date location. Once the concert happens the artist can then announce the date of the show that might be close to that one. Example is The Orlando show… There may be more Florida shows for Kenny but since we are centrally located in the state nothing can be announced until after Runaway Country is over. The promoters want to make sure they sell their show out 1st before they reveal that there is a show 2 hours down the road 2 months later. Not what we want to hear but at least we know why it's happening the way it is!
Many of you wanted to know how Connie's meet and greet went with Sam Hunt. Connie is sad to report that Sam Hunt has NO idea who the No Shoes Nation is! During the meet and greet with her hubby, she walked right up and asked if he was excited about joining the No Shoes Nation out on the road in 2016? He looked at her completely perplexed? She had to continue to ask if he was touring with Kenny in 2016? Sam said…"Oh yes the tour with Miranda that will be fun. Are you coming out to a few shows? Are you Miranda Fans?". Connie answered… "Not really, but I'm a huge Kenny fan." He said, "Oh yes Kenny Chesney. Can't wait!" All in all we found it very odd that he did not know who the No Shoes Nation was? Connie's current stand is that Sam Hunt is in for a huge surprise in 2016. A bit "bro country" for her but maybe Kenny see's something in him that will make us all love him by the end of the tour? We had a few minutes to chat will Old Dominion and they are so excited to be back on the road with Kenny in 2016. Such great guys. Now they on the other hand, are full on No Shoes Nation Members! Here are a few pictures from all the fun! While Connie was meeting Sam, Michelle was making her rounds back stage!