WE THINK WE ARE READY FOR TOUR DATES!!!!
These two fan's are Hoping Kenny thinks we have waited long enough! With the new album released and the Sandbar totally loving it, we are all getting a little antsy for some tour dates!
Michelle and Connie where able to find the new Blue Chair Bay Creme Rum. It is so delicious and thanks for the mixer suggestions. Connie scored tickets in the Golden Horseshoe aka "Sandbar" for the Country Super Fest with Kenny on June 21st 2015. She will be in Columbus that week for work so it worked out great!
The Sandbar had a lot of fun with some great facebook questions and photos this week.
Where's your Kenny "Space"? We had offices, craft rooms, cars and tiki bars! Loved all the input!
What was your favorite show? Well, we heard about Vegas, Tampa and there were a few Boston shows mentioned, as well as many more awesome cities. Many of you had photos with the man himself.
Who do you want to see Kenny do a duet with? How about Carrie, Miranda and Bruce Springsteen? They were some popular names that were talked about.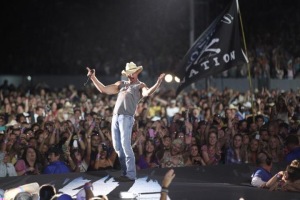 You guys don't know what it's like to know we are in this ride with so many wonderful fans that love the music that this amazing man makes for all of us! If you haven't had time to read Noelle's view of us…Check it out under the "All You Need To Know" Section of the website.
Let's pray for tour dates soon, but till then we will do our best to keep up with all you guys in the No Shoes Nation!  We will be working on a new podcast this week for you all to enjoy also.
Much Love,
Connie & Michelle
"Got nowhere to go, all night to get
there, but I'm going there with you"
Kenny Chesney "Till It's Gone"