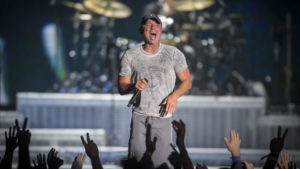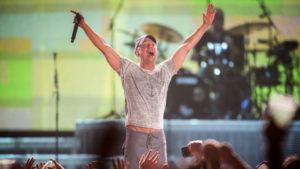 Above Photo Credit: Allen J. Schaben / Los Angeles Times
It is pretty amazing when you get some awesome pictures texted to you from California Stagecoach Festival at 3:00 am and you happen to be awake… Well that is fate! Our buddy Greg said he would keep us posted and he kept his promise! Even videos… what a bonus! Especially one where Kenny is singing "Setting The World On Fire" with a little girl! How about Kenny jumping around in his grey board shorts, ball cap and a t-shirt. He was as comfortable as ever taking over the Stagecoach audience! He seemed happy and full of energy. One review from a writer for The Press-Enterprise stated… "Instead of cutting out early to beat the traffic to get to work on Monday, the majority of the fans stuck around to see Chesney. Sporting a simple baseball cap and a pair of shorts, Chesney delivered a set similar to the ones he had been touring on last summer, coming out with "Beer in Mexico," "Reality," "Til It's Gone," "Summertime" and got fans swaying along to "No Shoes, No Shirt, No Problems."
We took the time to put the pictures Greg sent us with a video in a slide show for you all.
For the next few weeks we will highlight some of the video clips he sent us on our Facebook page as well. A huge thank you to Greg Cox!!!
A shout out to Jen Anderson who kept track of the the songs Kenny performed throughout the night. We are truly blessed to have such great No Shoes Nation friends that keep us posted from the shows we all can't go to!
"Stagecoach Set List"
AC/DC opening
Beer In Mexico
Reality
Til It's Gone
Summertime
Pirate Flag
No Shoes No Shirt No Problems
Somewhere With You
I Go Back
Anything But Mine
Save It For A Rainy Day
Living In Fast Forward
Young
Noise
American Kids
Setting The World On Fire
You And Tequila
How How Forever Feels
Don't Happen Twice
Encore: Tractor