For Immediate Release From Kenny Camp
Tuesday, Oct. 3, 2017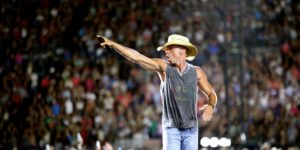 Cosmic Hallelujah Single Captures the Essence of Coming of Age

30th No. 1 Connects Country Radio, Music Lovers + People of ALL Ages

NASHVILLE, Tenn. — When Kenny Chesney heard "All The Pretty Girls," he recognized a song that captured the surging desire for now, the will to find someone who truly understands and the inherent anxiety that prefaces coming of age. Like "Young," the breakthrough smash from No Shoes, No Shirt, No Problems, the complexity of all that rushing desire is a pretty simple thing, one that Chesney knows only too well.

And with an urgent take on "All The Pretty Girls," it was only a matter of time until America got swept up into the rush that is a song that pivots on pretty girls, lost boys and being home for the summer. As summer turns to fall, "All The Pretty Girls" becomes the cherry on top of the chart – landing at No. 1 and giving the songwriter/superstar from East Tennessee his 30th chart-topper.

"There are those songs you just know," Chesney says of the guitar-driven up song that tracks the ritual of returning from school and reconnecting with an urgency of knowing this time together is so limited. "Everyone's been there. Everyone's wanted to make the most of a few weeks, to chase after some girl or some guy – and few things will ever make you feel that alive again. The guys who played on this track really bottled up that rush, and got it on the record."
In that desire to tap into the song's authenticity, earlier this summer, Chesney offered a scholarship to a middle Tennessee college student who created a video for the song. Though unorthodox, Jessica Martinez's clip – shot on location in Virginia – traced a young man's pursuit and summer romance with a local girl with wonder and the swerve of perfectly curving moments.

"It's easy to forget about the innocence of being young and being so caught up in what you're doing every night, who you're with, falling in love," Chesney offers. "That's what made this song special: it's everything being that age, chasing girls and the night is made of. It's why I wanted someone who was living it to make the video, and it's why I think people responded to the song: it felt real, and free, and alive."

For the No. 1 off Cosmic Hallelujah, it marks a second chart-topping song on one of Chesney's most creatively ambitious albums in a career that's seen him win the Country Music Association Album of the Year, Academy of Country Music Single of the Year and duet with Willie Nelson, Dave Matthews, Mac McAnally, Uncle Kracker and Grace Potter, as well as color outside the lines with "American Kids," "Noise" and the chart-topping "Setting The World On Fire" with P!NK.
"Music to me is the place where life truly lives," Chesney explains. "When a song is right, when you can really feel it, there's no denying the passion or the heart. If there's one thing that sets No Shoes Nation apart, it's how much they feel things and how hard the respond. 'All The Pretty Girls' is everything they're made of; the response – and this No. 1 – once again prove it."