"Secrets To The Sandbar"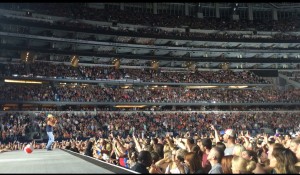 Every No Shoes Nation member deserves an opportunity to experience the sandbar at one of Kenny Chesney shows. It is not always a hit for everyone, but for many it is the only way to see Kenny in concert! We get so many questions for tips and what to expect from many 1st timers. We decided to put a "list" together and we even enlisted the help of many of our other sandbar addicts. Here is what we came up with!
Start putting money away in the fall  to purchase your ticket in the spring before the next tour starts. Amphitheater sandbar tickets are harder to get, but a little more affortable so they sell out quicker. Watch Kenny's tour page because he sends out pre-sale dates. Keep in mind all sandbar tickets for all venues will sell out quickly so you have to be ready when they go on sale… which can be up to 6th months before the show. Get the VIP if you can afford it so you get early entry into the sandbar and you don't have to deal with #2.                                                                                                       
You will get an e-mail from where you purchased your tickets about a week before your show. It will have all your instructions.  There is usually a special entrance for sandbar ticket holders to access the field/pit area. If you want to be up against the stage/"T" or very close and did not purchase VIP you might want to get to the venue a few hours ahead of time to line up outside the designated sandbar entrance. *please note* This will cut into your tailgating! As you enter the venue you will get a wrist band that usually has "Sandbar" on it and that allows you access to the floor section of the venue.
Stay hydrated, wear confortable shoes, use sunblock and keep a good attitude. It will get hot. You will have to wait till after the show to get any mechandise unless you have a VIP ticket.
Go with a friend if you can or better yet make friends with all the other No Shoes Nation members around you. That will save your life when you need to go to the restroom or leave the line to get something to eat or drink.                                                                                                                                          
If you look at the "T" in the picture above…It is basiclly 3 sections although your ticket may have one of the following commonly used abbrevations…  SB1 , Sbar2 , SANBA 3 on it, those are just for reference at the time of ticketing. All 3 sections are open are avaliable for you to find a spot in. There is no sand in the sandbar, no restrooms and no seats/chairs and you can not bring your own chairs in.  There are usually bars in the back corners. At some venues the railing around the sandbar has places that make great quick seats to rest.
Everyone has their favorite spot. Most of us like the very front of the "T" and that is by far limited and most VIP ticketed people claim those spots 1st. The corners are always a good place too. Up against the front of the stage gets you a good view while he stands at his microphone but Kenny uses the "T" the most. Leaning against the stage/"T" is awesome to rest your feet from standing so long. Keep a wide stance while you are there because when Kenny finally takes the stage you will be pressed up against it as more people move forward. You might even get those one or two crazy people who haven't been there all night and they decide to try to move in front of you.
SMILE, MAKE FRIENDS WITH EVERYONE AROUND YOU AND YOUR LOCAL SECURITY GUARD! This is so important for having a great time. When the crazy person trys to move in on your space… immediatly tell your local security guard. They are probaly drunk and letting security handle them is going be your best option for any issues! Control your alcohol intake so #1 you remember the show and have a good time, but also to prevent having to go to the restroom while Kenny is on… You don't want to miss anything.
If you are lucky enough to sneak in a 5 hour energy drink, drink it right after the opening act so you are recharged and ready for Kenny. Kenny gets very irritated when he sees  phones and cameras all up in the air… hence… "Noise". LIMIT YOUR PICTURE AND VIDEO TAPING DURING THE SHOW! Live in the moment! Save anything you have for him to sign until the end. He will come down the stage and sign stuff  after his encore. He will not stop in the middle of singing! PLEASE PLEASE PLEASE if you have a sign for him… once he sees it and ackowleges it PUT IT DOWN. He will avoid you if you contunue to hold up your sign or item once he has acknowledged it. Kenny does not like beach balls. Don't bring them or throw them at him on stage!                                                                  
There are NO restrooms in the sandbar. At most venues they are a far walk up the stairway on the mid level. With large crowds and people drinking, using the restroom after you get in the sandbar could lose you your spot. Keep this in mind and use good judgement if you have to go. Kenny's shows can last anywhere from 90 to 180 minutes! Because of all of this we don't suggest bringing children under 10 years old into the sandbar!
We love to enjoy the sandbar from the back, we have met so many wonderful people that way. Our friends on Kenny's team are able to come visit with us. We get room to dance and sing or come and go for drinks and restroom breaks. We even get some amazing pictures back there too. So… NEVER feel like this is not an option. The back of the sandbar can be just as fun but just in a different way! Most of all… live in the moment!!!