"Shari & The Keg In The Keys Show"
Ever wonder what it is really like to see Kenny Chesney in Key West at a last minute Keg Show? Shari has the scoop…
Sunday, March 20
8:30 pm – leave Runaway Country music festival (missing Eric Church) to drive south to Florida City, arriving around 11:45 p.m.
Monday, March 21
Alarm went off at 5:30 a.m. – we shower & jump in the car, headed south toward Key West, arriving at approximately 8:30 a.m. Stopped at McDonald's to use the restroom & grab breakfast. I was too nervous and only had about 3 bites of a breakfast burrito, and a few sips of diet coke!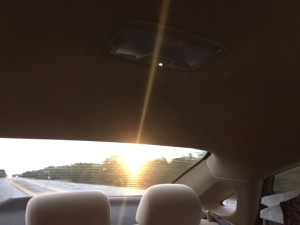 8:50 a.m. We secured an all-day parking spot for $30. It is 68 degrees in Key West, with 30 mph winds! What happened to the sunny Florida Keys!???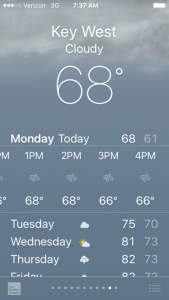 9:00 Got in line for Sloppy Joe's – the line was already wrapped around Greene St. and people were arriving every few minutes to join us. We soon met our line-mates, Tom & Karen from New Jersey. They had been vacationing in Key West and decided to try to get in to the show. We exchanged stories and made a non-verbal pact to protect each other's place in line! They were very nice and we really appreciated hanging with them all day!
10:00 Someone from Sloppy Joe's came out & told us that they were only allowed to let in 160 people per the fire marshall, so they would do that soon, and then reevaluate. We almost sent someone to do a headcount to see if we were going to make the cut! Shortly after that, they let a small amount of people in and then we waited some more.
We could see inside because SJ's has big windows all along the side, which were open. Around 10:30 they allowed another large group in – my guess is that they let the rest of the original 160 in at that point… we were still outside, but much closer!!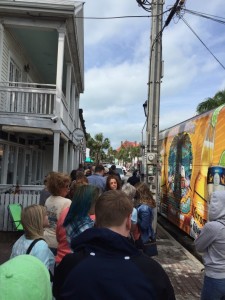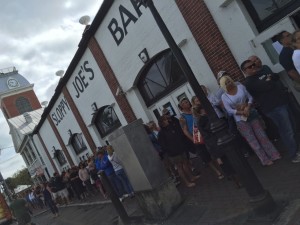 11:00 am – 2:00 pm – we basically just stayed in line talking to those around us. Some would leave to go grab something to eat or drink. Greg left briefly to 1) buy himself a bloody mary and me a mimosa and 2) buy a portable iPhone charger (because we forgot to bring ours!). My faith was wavering during this time. I thought our chances of getting in were shrinking. My friends kept me going! I had people sending me good wishes from all around the country – California, Washington, Tennessee, Virginia…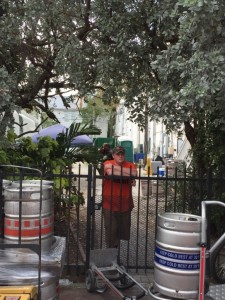 This is where we saw Bailey and a couple of the band members going in & out during the day.
2:00 No change in the line and they hadn't let anyone else in. I ran across the street to Rick's and used their restroom (first time since 8 am!) and bought a beer for the privilege!
2:30 – they let a few people in and we advanced to the front of the building!!! WooHoo, my faith was bolstered! Also – we were told at that time that Sloppy Joe's would not be serving food after that – ugh! I think my body was going into some weird dehydration mode at that point or something.
The crowds on Duval Street were getting crazier by the minute. The police department was out in force and trying to keep things in front of Sloppy Joe's safe. They had Greene St blocked off to cars (where the bus was parked) but people were walking down there to take pictures all day. We were asked several times "What is the line for?" and when we told them Kenny Chesney, surprisingly, most of them had no idea who that was!
I overheard one man asking the policeman stationed at the corner, "What's going on here?" and the policeman answered "A Kenny Chesney show." The man said "All THIS for him?" and the policeman answered, "Yeah, he's kind of a big deal." 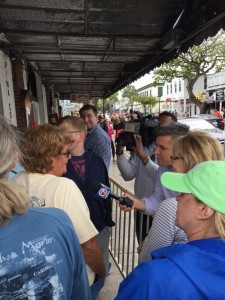 News crew interviewing us about a shooting that morning.
There was a local woman hanging around the front of the line, near the front door, and she was trying her hardest to sweet talk the security guard. He was attractive and very nice, and she was an older lady and had been drinking a lot…she started out with "I just need to use the restroom…" (did NOT work) but kept bugging the guy for about an hour! There were also a couple of other people who came up to our area who kept trying to befriend anyone in line, trying to get in. The nerve!!
4:00 – Kenny's band members came onto the stage to warm up. They let a few more small groups in (4 – 5 people each). We had gone from being behind about 185 people, to being the 3rd & 4th in line!!! My knees and lower back were killing me, and Greg wasn't doing much better, but we were so close, we had to stay!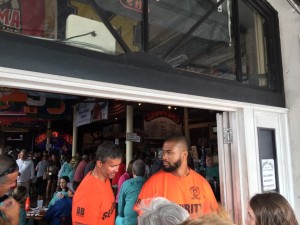 The security guards at the front door. They must take a class on how to just stand there and smile!
4:35 pm – With no fanfare, the manager came over & just said "Okay, let's go" and motioned us in!!!
FINALLY!!!
5:03 pm – Kenny came out smiling, waving & throwing kisses to the crowd.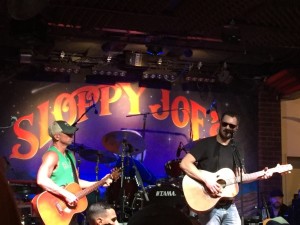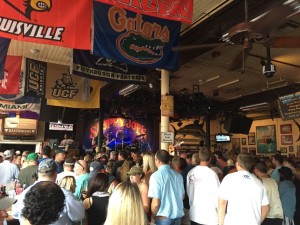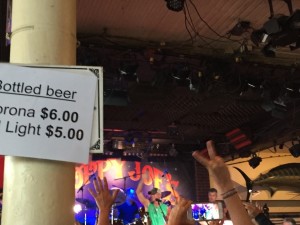 Highlights of the 3-hour show: Matt Ramsey (OD) singing Save It For a Rainy Day (co-writer) with Kenny, Eric Church (Springsteen, When I See This Bar, plus a few more), Sean Peyton & John Fox coming on stage before The Boys of Fall, hearing Kenny do Soul of a Sailor LIVE, The Fireman, Tennessee River (Jon Conley sang & played fiddle), and Clayton singing Pride & Joy.
My first (and possibly ONLY) keg show!!! I survived "Kenny In The Keys 2016!" Where's the T-shirt for that?? Here is the video I took of Soul Of A Sailor…