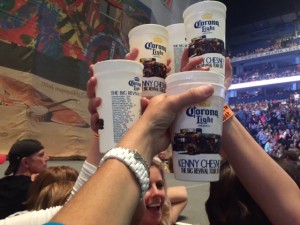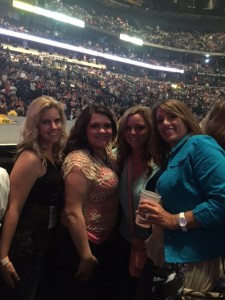 As I sat in Nashville airport waiting to catch my flight home, after a 22 hour whirlwind trip for the opening night of the Big Revival Tour. My mind was spinning with…
all the wonderful memories I will cherish for a life time! Friends and family thought I was crazy to make the Birthday trip for Kenny. With a plane ticket bought at 6:00 pm the night before! Yes… I'm crazy! About living my life to the fullest and taking opportunities to do, just that! The No Shoes Nation is an amazing family of crazy, music loving, life living people! When I arrived at Rippy's for the NSR Party and surprised everyone, it was so awesome to see old friends and meet new ones! Michelle and I have been to some amazing shows, but this one was different! We have been in the Sandbar many times before. This time it was the people I was surrounded by inside the "T'. Most were total strangers, but for 3 hours we became best friends! We were so connected to Kenny and the music that we literally escaped reality for a short time! Kenny is so blessed to have the fan base he has and I hope that we make him proud at every show by living in the moment. I only wish Michelle could have been there to enjoy it with me! But I'm sure there will be more times like this one for us to share together. Now On To Tortuga!
We are all equals in this No Shoes Nation world… We equally love the man and his music!
Rock On!
Connie