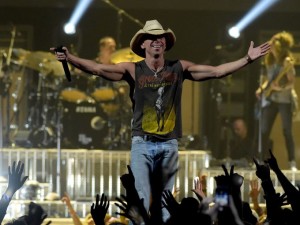 Photo Rick Diamond / Getty Images
"After last year, we've got a bar to clear, but I am fired up… and missing the fans already. There are a bunch more dates coming, but let's get the first wave of major stadium shows on the calendar right now!"
"People always want to know about the stadiums," Chesney laughed, "because it's a big show… a lot of music… and the kind of day people come together and celebrate friendship. We know a lot of people travel to these dates from all over, so to give them as much time as possible to get ready, I figured it'd be nice to get these out in front of our other shows! There could be a stadium date or two added, but for everyone who's asking, let's get next year started, right now."                    ~ Kenny Chesney
After breaking several attendance records and selling more than 1.3 million tickets on The Big Revival Tour, Kenny wanted to harness the energy of last year's audiences. He is naming his 2016 tour " Spread the Love" to reflect The No Shoes Nation's passion for living life and loving music, he's announcing the first wave of shows for next year – starting with the already on sale April 23 concert at Auburn's Jordan Hare Stadium.
With an opening line-up of Miranda Lambert, Sam Hunt and Old Dominion for these shows, a couple cities will see a surprise artist in Hunt's spot… Dallas, Milwaukee, Philidelphia and Detroit.
Spread The Love Tour 2016
Stadiums ONLY
April 23                      Jordan Hare Stadium               Auburn, AL
 May 7                         Chase Field                                  Phoenix, AZ
 June 4                        AT&T Stadium                             Dallas/Arlington, TX
 June 18                     Miller Park                                    Milwaukee, WI
 June 25                      Lincoln Financial Field            Philadelphia, PA
 July 2                          Heinz Field                                   Pittsburgh, PA
 July 16                        Arrowhead Stadium                Kansas City, MO
 July 23                        Century Link Field                   Seattle, WA
August 6                     Levi's Stadium                           Santa Clara, CA
August 13                   Ford Field                                   Detroit, MI
August 20                   Met Life Stadium                     E. Rutherford, NJ
More Dates will be announced and Welcome To The Sandbar will keep everyone posted.