"Plates With Love"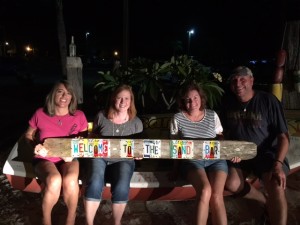 A few weeks back Michelle and Connie received a surprise message on the Welcome To The Sandbar Facebook Page. We couldn't believe our eyes when we opened the screen. A wonderful couple had made us a sign with "Welcome To The Sandbar" out of old license plates. We've all seen the wonderful tags that Kenny receives from fans, including the photo after the Boston show with the "Spread The Love" and "Boston Strong" signs that were made for him. So as you can imagine, we were very excited that we were going to have one of our very own.
So, we set out  to go and meet David and Charlotte after months of trying to get together. They remarkably only live an hour from our town of Orlando, FL. Little did we know, that when they asked us to meet them
at "Al's Sandbar" in the small town of Tavares, FL, that we would be so amazed and grateful to get to know this woderful couple.  It was immediate that they were one of "us!" Hugs were our greeting. David graciously started a tab for us to sit and  talk "Kenny." It was quickly evident they loved Kenny Chesney's music and more–they live the No Show Nation life. David was wearing a NSR hat which is how we quickly spotted him! They have made many wonderful trips to St. John and now their eldest son lives on Island and works at the Beach Bar.
What we didn't know was that THEY are the people behind ALL those amazing "License Plates." Yes, they made the signs that we all see in the pictures. From Spread the Love to Going Coastal to No Shoes, No Shirt, No Problems and lets not forget the wall at the Flora Bama with the entire "Flora Bama" song on it. That thing is a masterpiece and we loved hearing how all these signs came to be. David and Charlotte's stories were endless. They recently received a special request from the Marley family for a sign. It's in the works now so we should get a peek soon. We could have sat there the entire evening listening to their passion for the man and his music. Such a gracious couple with a beautiful heart to go with it. We are so honored to have been chosen by these amazing people to receive one of their works of art for our little blog/website! They made us feel so special. They simply said they loved what we were doing for the fans and how they enjoyed the positive fun fan engagement in honor of Kenny Chesney and his music. We often wonder if Kenny knows the depth of the No Shoes Nation and all the cool people who do cool things on their own time to celebrate all things that go along with being a member of the No Shoes Nation.
When we started this Kenny Chesney adventure, we never imagined we would meet so many amazing fans that share the same passion for the man and his music. We are in awe everyday at what a wonderful ride this has become. Thank you David and Charlotte for showing us all how to Spread the Love thru the No Shoes Nation! We will cherish our special work of art forever!
Connie And Michelle