Sunny Day & An Old Tailgate
The No Shoes nation Loves to Tailgate before Kenny shows!
We are lucky to know two big tailgates that are the top of the line for the members of NSN!
Read about Randall, Gene, and Phil in Dallas and learn all about their awesome setup!
Listen to Rusty tell us all about why he sets up his traveling tailgate for all of us in the Southeast!
1st Up Lot 12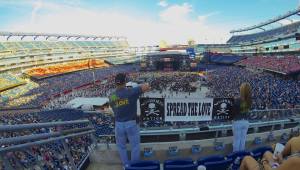 Story Behind Lot 12 by Phil Carpenter:
So in 2006 I was lucky enough to go on the Kenny Chesney cruise. Me and one of my best friends from high school Gene Horton. We met some amazing people that week who we are still great friends with today. In some cases a big family when we travel to different cities for concerts we all get together. Our tailgates went from a few people and a six pack and a car stereo to now Big Speakers, TV's and creative tiki bars. Out first tailgate was in Nashville 2006 at LP field, Gene Horton even provided the tunes at the Longhorn Steakhouse pre party and as Kenny has grown so has our family. We now pretty much designate our group as Lot-12 Nation, there are plenty of lots at Cowboy Stadium we all kind of ended up in Lot-12 in 2011 and it just took off from there.
It's really more then just a place to park your car to us. As we have watched our friends every year either celebrate new life in their family and also cried with family  over the loss of one of our tight knit group. We're that shoulder to lean on when you need it and I'm proud to be part of it. So I tell you the power of music is incredible but Kenny fans take that to a whole other level that only us and the man from Tennessee relate to. If were traveling to another city we just tune into NSR and find the party. If we go to Tampa we look for Rusty Smith or I just go hang out at the NSR/Blue Chair Bay pre Party.  This year it's my sons Big Revival  his first show in Dallas and were very excited . Thank You Kenny for this amazing ride you've let us all get on and thank you Lot-12 Nation and all the KC friends in the NSN cheers to you. All My Friends are Pirates! That's just who "We are"
Get ready for The Big Revival.
Randall Tells a story of giving…
The "Lot 12 Nation" came together in a big way after the devastating fertilizer plant explosion in the nearby community of West, TX. After all when it's all said and done the only thing that really matters is the way we treat each other….Spread The Love!!!!
They know how to live it up in Lot 12
___________________________________________________________
Check out Rusty and listen to his story Live from Flora~Bama!
Inteview - Rusty Smith (2014)
Rusty Smith is the Guru of Tailgating! With Over 80 Kenny shows under his belt he has seen it all. We will hear all about all the special guests that come to hang out with him and his closest friends!
Rusty Sets up his tailgate from Georgia to Florida!
Listen to this great  interview with Rusty while we were waiting to go into the Sandbar at the Flora~Bama Show!